Welcome to ETTA
ETTA provides programs and services that enable people with disabilities to live fully enriched, independent and active lives.
Iranian Gala

20th Anniversary Friends of ETTA, Iranian-American Division Gala, was a huge success with more than 550 ETTA supporters attending. Mrs. Manijeh Nehorai, Founder and Director of the Division, was recognized for her 22 years of dedicated service to ETTA and individuals with special needs.  Mrs. Nehorai addressing the attendees.
---
Program Activities

ETTA clients get inside tips on drawing Disney characters by Saul Blinkoff, former Disney animator and now a director at Netflix.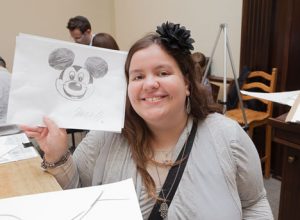 ETTA Gala
More than 700 guests enjoyed the 24th Annual ETTA Gala honoring Jonathan and Miriam Istrin, Susie and Fred Toczek; Leah Schachter and Josh Taff; the ETTA Youth Board; the Pujols Family Foundation and the Don and Lorraine Freeberg Foundation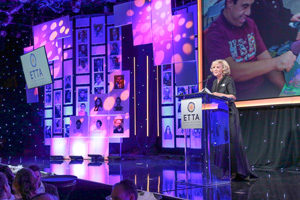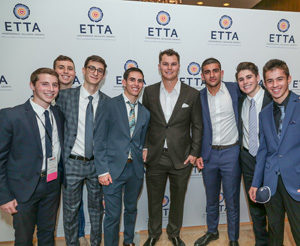 LA Dodgers Joc Pederson (center) poses with the ETTA Youth Board (partial membership)
---
ETTA serves people with intellectual and developmental disabilities, and their families, and is one of the premier providers of such services on the West Coast. ETTA's services include residential housing, case management, employment training and placement, educational services and social services.
ETTA's mission is to provide programs and services that enable people with disabilities, and the families who love them, to live fully enriched, independent, included and active lives as members of the Los Angeles community. ETTA's vision is an inclusive, participatory community of people, with and without disabilities, succeeding and growing together.
We enable people with disabilities to achieve greater independence, autonomy and inclusion. We change mindsets, raise awareness, increase sensitivity and provide inspiration. We elevate lives and train leaders. We are a community of hope, warmth, support and expertise.